When injury, accident or surgery robs you of your ability to perform day-to-day tasks or to participate in work or recreational activities, Physical Therapy can start you on the road to a speedy and long-lasting recovery.
Physical therapy is a specialized medical profession, providing individually tailored programs which help patients improve mobility and balance, decrease pain, and maintain or regain independence.
Our therapists at Progressive Spine & Rehab Center can help individuals who face a wide range of conditions and challenges, including orthopedic injuries, sports injuries, neurological problems, back/neck pain, joint-related disorders (such as arthritis), balance problems, and post-surgical rehabilitation. The therapist, physician and patient work together as a team to meet progressive recovery goals. Treatments may include manual therapy (hands-on); stretching and strengthening exercises; balance training activities; therapeutic exercise; and patient education to promote healing and avoid re-injury.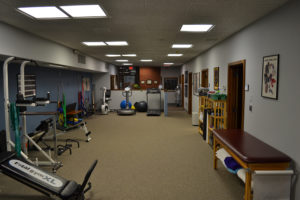 Our treatment philosophy combines skilled hands-on physical therapy with superior patient education, conditioning, and specific strengthening/stretching programs. Objective measurements are utilized to chart patient progress and outcomes. This multi-faceted approach is designed to restore functional movement, relieve pain and promote healing and recovery. Our emphasis on teaching injury prevention and healthy behaviors helps patients to maintain the improvements made as a result of their therapy and return more rapidly to their work and activities of daily living.